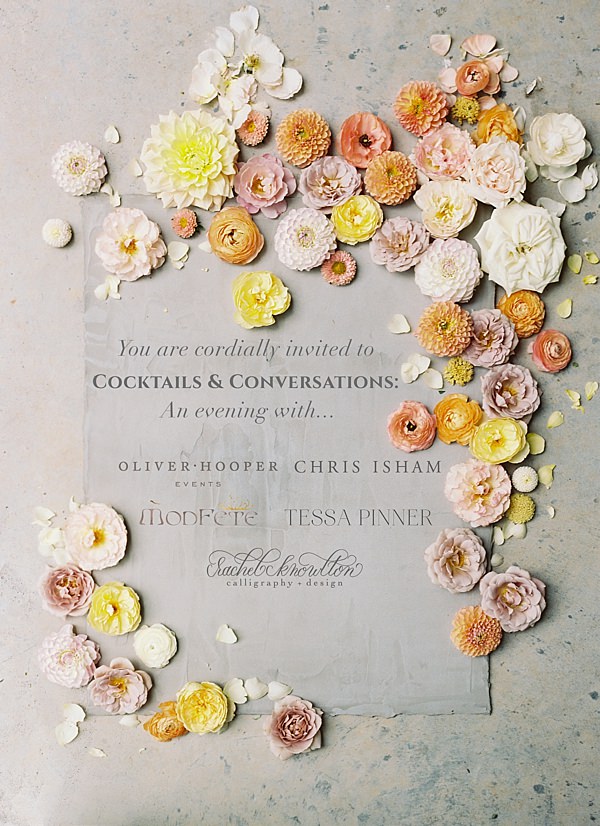 You're engaged (or about to be) – congrats! …now what? Wedding planning is not exactly for the faint of heart. Where to start, how to prioritize, budgeting, and so many more aspects can easily become overwhelming. This is why having an incredible team surrounding & advising you is so important.
So without any further adieu, I'm thrilled to announce Cocktails & Conversations! Come spend a casual evening with Taylor & Meg of Oliver Hooper Events, Katelyn of ModFete, Tessa of Tessa Pinner Cakes, Rachel of Rachel Knowlton Calligraphy, and yours truly for a night geared totally around you and your questions as you begin (or continue) planning your wedding. Whether you're our clients or you're not, we're simply desiring to help you create the best wedding imaginable by sharing our collective wedding wisdom so you can make the best decisions possible. With all that in mind, take a look at all the important details below…
Who: Current brides or soon-to-be brides (and feel free to bring a parent, best friend, or groom!), as well as the following vendors:
Taylor Oliver & Meg Hooper of Oliver Hooper Events | Chris Isham of Chris Isham Photography | Katelyn Pinner of ModFete | Tessa Pinner of Tessa Pinner Cake | Rachel Knowlton of Rachel Knowlton Calligraphy
What: Cocktails & Conversations is an opportunity for brides, or soon-to-be brides, to get to know and ask questions of some of Greenville's most respected wedding vendors. The idea for this evening was born out of a mutual desire between these vendors to help Greenville brides – even those who aren't their clients – to think about what is truly valuable when it comes to planning and executing a wedding day. Between hashtags, endless images on Pinterest, and a steady stream of "things" that are available to do or buy, we would love to help you think about where to spend your money, how to spend your time, and how to create timeless and distinctive events in a wise way.
When: Wednesday October 25 | 7:00-9:00p
Where: Oliver Hooper Events – 15 Reedy View Drive, Greenville, SC, 29601
How do I sign up: You can reserve your spot by sending an email to maryhelen@oliverhooperevents.com. Please put COCKTAILS AND CONVERSATIONS in the subject line of your email, and you'll receive a response with a link to complete a short info form. Space is limited to only 20 RSVP's & spaces are first come-first served!! Once we have your RSVP recorded, we'll send you a confirmation email and a ticket to the event.
We're all so truly excited about this evening, and we can't wait to meet you!